Melding Advocacy and Academics – News from Rutgers
Rutgers' Eagleton Fellowship Program gives graduate students a chance to combine politics with their chosen fields of study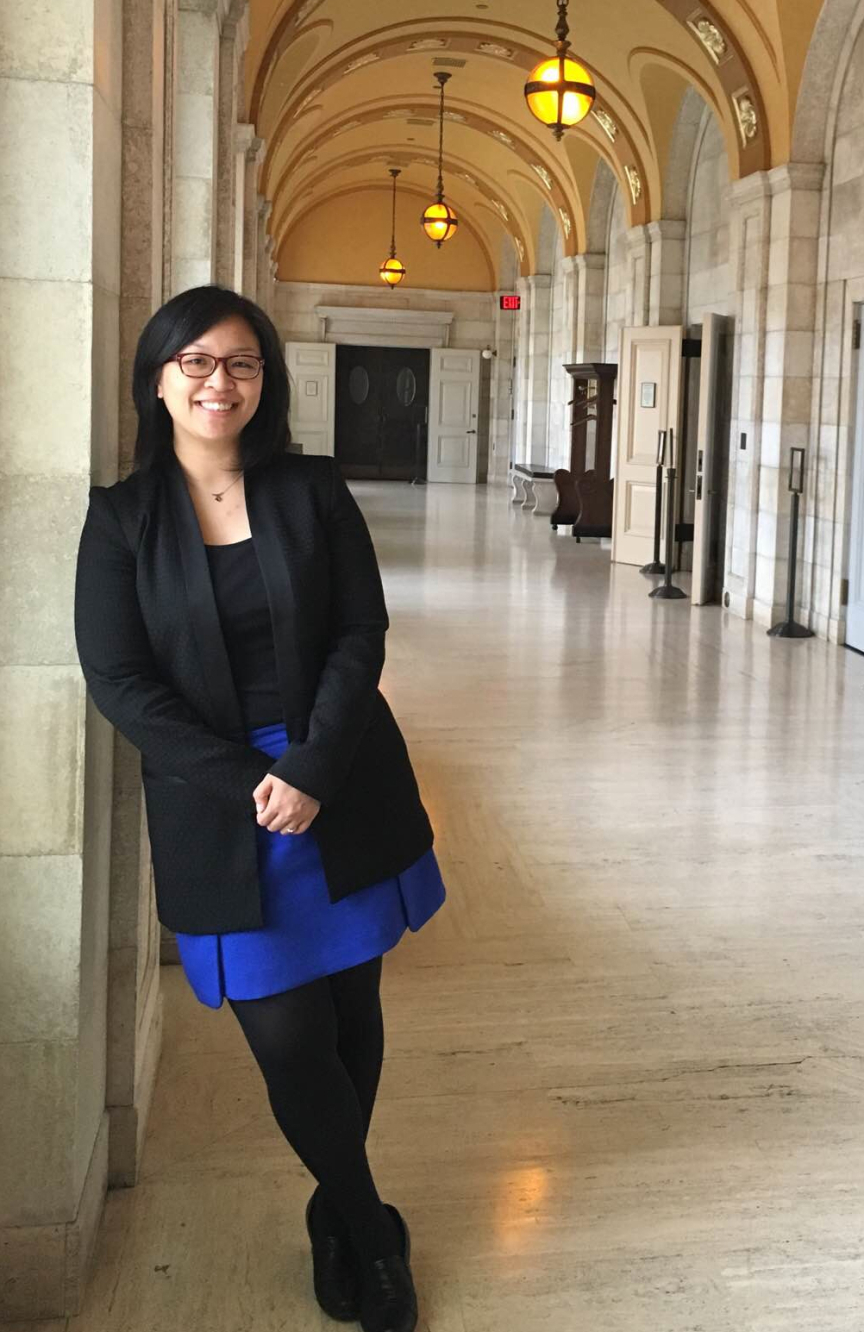 'I hope to apply my scientific training and the knowledge that I have gained from this fellowship to New Jersey and federal energy policymaking.'

– Philomena Chu, Ph.D. candidate in plant biology and pathology and an Eagleton fellow
Mixing plants with politics was one of the best decisions of Philomena Chu's graduate career.
The Rutgers student working toward a Ph.D. in plant biology and pathology split her spring semester between the lab – where she researched a tiny aquatic plant called duckweed as a scientist – and the State House – where she researched pending bills for the state Legislature as an Eagleton Fellow.
"If we want to make large-scale societal changes, the best way to do that is through policymaking," said Chu who hopes to turn duckweed into the next sustainable fuel source. "That led me to Eagleton."
Launched by Rutgers' Eagleton Institute of Politics in 1957, today the one-year interdisciplinary Eagleton Fellowship Program provides select Rutgers graduate students the opportunity to further their understanding of government, public affairs and the practice of politics while connecting the fellowship experience to their chosen fields of study.
"There is something almost miraculous in what has been achieved. Against formidable odds, we've created a community. The graduate students come from many different academic and professional backgrounds and are learning from each other by interacting here," said Eagleton Institute director Ruth Mandel. "The program encourages, educates and gives opportunities to young people to participate in our democracy – to serve the public as issue advocates, government employees, elected and appointed officeholders and lobbyists."
More than 100 apply for the 27 slots annually. Students take one of two fall seminars: "Legislative Policy Making," with former state assemblyman, senator and mayor of Bayonne, Joseph Doria; or the "Eagleton Seminar in American Politics" with Doria and Peter McDonough at the Wood Lawn mansion in New Brunswick and several sessions in the State House in Trenton. McDonough, who serves as vice president of external affairs for the university, has been an adjunct professor at Eagleton since 2001. But his informal introduction to the program came in 1979 when he was executive director of the State Assembly working alongside Joe Gonzalez and Joe Gannon, both Eagleton alumni.
"It was clear to me then these Eagleton people were really special because they were very good at what they did," he said. "They knew both the practical side of politics and the philosophical side."
And that's what McDonough and Doria strive to pass on to their students by cultivating a forum that celebrates civil, bipartisan discourse – a rarity, especially in a presidential election cycle as bitter and contentious as this one.
"We will not tolerate bumper-sticker mentality," McDonough said. "If by the end of the semester we can convince you these are all good people trying to bring about positive societal change, they just disagree on how to reach it, then we've done our jobs."
Fellows spend their second semesters embedded in one of the state's branches of government.
"They are not the volunteer interns who open the mail and do routine office work," said Mandel of the field placements. "The placements are designed to enrich and enhance their educational experience, but also show them the way that their education can link to government service."
Chu's State House experience opened her eyes to a wealth of job opportunities she hadn't previously considered and impressed upon her the need for more science-minded liaisons in lawmaking.
"Often, science policy is made by non-scientists who might not have the technical background to fully understand the implications of a piece of legislation," she said. "I hope to apply my scientific training and the knowledge that I have gained from this fellowship to New Jersey and federal energy policymaking."
She wouldn't be the first Eagleton fellow to go on to marry a science education with government service. Ari Novy, who earned his Ph.D. in plant biology from Rutgers and tipped Chu off to the Eagleton program, is executive director of the U.S. Botanic Garden in Washington, D.C.
Now Chu joins Novy as one of the program's nearly 1,000 alumni. It's a close-knit network of alumni and friends of the Eagleton Institute – former governors, legislators, cabinet officers, chiefs of staff and top lobbyists, among them – that supports the pursuits of its fellow members.
"Alumni stand ready to share advice and useful information about career opportunities," said Mandel. "Building the network has involved a deliberate, labor intensive effort to support Eagleton alumni and to be of service to the public sector that benefits from their talents and skills. It involves a lot of hands-on work, but our faculty and dedicated staff believe in its value."
The institute fosters those connections at gatherings at the Wood Lawn Mansion during the academic year. Eagleton alumnus and 2012 Rutgers Law School graduate Guillermo Artiles hasn't missed one yet. "It's a great crew. I don't believe there is a Rutgers entity that brings that networking notion out as well as Eagleton does," said Artiles, corporate counsel for Greenskies Renewable Energy LLC. "It really does walk the walk."
When Artiles – founder of #CubaNow, an organization that lobbies to end the Cuban trade embargo – needed an honest critique of his media campaign, he reached out to McDonough. The response from his former professor was instantaneous, said Artiles, who accepted McDonough's offer to review Artiles' interview with Fox News' John Stossel.
"He went frame by frame through the six-minute interview and gave me this phenomenal critique," he said. "He was first person I thought of and frankly the only person who could have helped me out in that way."
---
For more information, please contact Lisa Intrabartola at lintrabartola@ucm.rutgers.edu.