Robertson: Crappie surprise | Sports | bradfordera.com – Bradford Era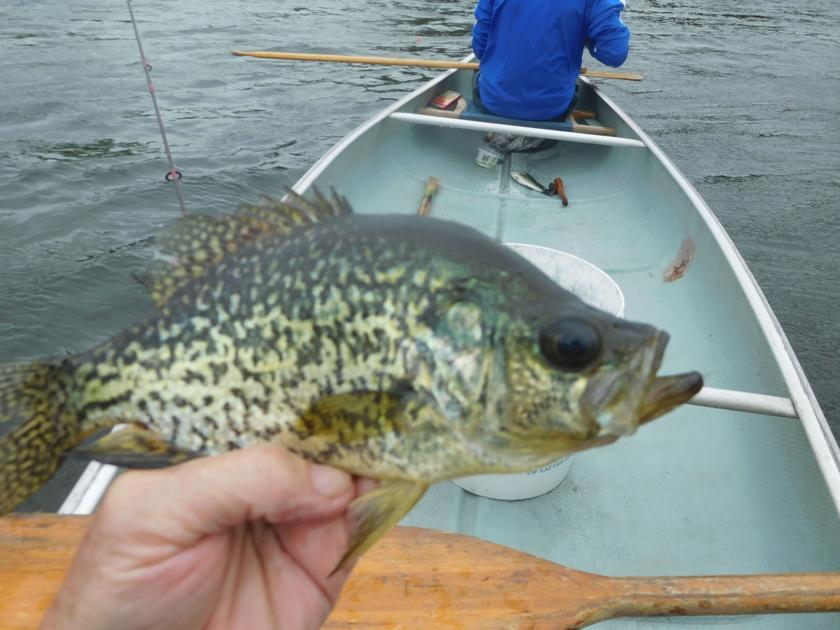 Rhode Island's topography leaves little doubt it's one of the New England states. Largely flat and very rocky with low, heavily forested, rolling hills, laced with numerous creeks and rivers, the smell of the sea is never far away. Many of its inhabitants still speak with the distinctive accent I love to hear.
Natural lakes and man-made reservoirs of various sizes dot the landscape, making it a perfect place to fish from a canoe or kayak. These sandy and rock bottom lakes are largely free of the thick, choking milfoil weed so common in Pennsylvania and New York. Pickerel weed, lily pads, reeds, American lotus, elodea, curly-leaf pondweed, coontail and duckweed are common and give the waters a clean and vibrant appearance.
I also must admit they also impart a very "fishy" look. Unlike milfoil which grows in a carpet making fishing difficult if not impossible, many of these native weeds only grow along the bottom providing cover, but leaving a space between their tops and the surface where you can retrieve a lure. They're much more fishermen friendly.
Every pond seems to have resident populations of large and smallmouth bass, pickerel and sunfish. Other ponds and lakes are also stocked with trout, always a good thing. However, I was unaware of the crappie population until my most recent trip.
This day, my grandson, Nate, and I were determined to go on yet another fishing expedition. Despite being June, the sunfish weren't spawning, still holding in deeper water and difficult to locate. We caught enough bluegills for dinner, but it was difficult to find numbers of them. We switched species at that point and fished for trout with much better success, catching rainbows from 14 to 18 inches long. This was a very pleasant surprise as I never even contemplated fishing for trout in Rhode Island of all places.
With so many lakes in the immediate area, once we put the canoe on my car, it never came off for two weeks except to fish. Today, we headed to a local reservoir. It was beautiful outside, the temperatures in the high 70s, sunny, with a nice gentle breeze to keep the edge of the heat.
We were rigged up for sunfish, but looking at the beautiful mixed aquatic vegetation I felt we should throw some smaller lures and see what turned up. I tied a two-inch minnow bait on a Rapala knot for better action, but Nate stuck with worms.
I hadn't made 10 casts before I caught a big sunfish, then another, a couple small bass and finally a pickerel. Nate couldn't take it and asked for a lure for himself, but in fact, I didn't have another, as my spares were in Pennsylvania in my trout vest. So, with a sigh I handed him my rod which he accepted with a huge grin followed by, "Thanks, Papa."
By now we were at the upper end of the lake where things looked very fishy indeed. Two different sized species of lily pads, some three inches across, the others eight covered the surface in small groups. Pickerel weed, cattails and reeds ringed the shoreline while Coontail and other clean looking, green weeds covered the bottom all mixed with larger rocks and areas of clean sand.
I slipped the anchor over the side in about six feet of water so we could give this area a thorough going over. An osprey flew overhead and a huge heron jumped up from the cattails with a hoarse croak and flapped heavily away. Fly catchers swooped, circled and dived around us as a red winged blackbird thrilled from a small willow. I was just sitting there drinking all this in when Nate suddenly said, "Got one Papa."
I glanced up and following his line saw a silver green flash and a wide mouth roll to the surface. Why, that looked just like a crappie. Could it be? Nate fought the fish in and sure enough he had a fat, 10-inch crappie. Not a giant, but large enough for a quality fillet. He immediately cast back out and caught another.
Holy cow! A school of crappies? All else was immediately forgotten, this was too good to be true.
Thinking hard I dug through my limited tackle and found a trout magnet. I tied it on, dropped the little jig over the side and watched it sink to the bottom. I pulled it up a foot, fastened a weighted bobber on and looked up in time to see Nate land another nice crappie.
I fired out a cast and watched the orange bobber settle. It bounced on the tiny waves, wiggled and then disappeared beneath the surface. I didn't set the hook, just raised the rod and reeled rapidly. When I felt the fish, I just pulled the line taunt. Soon I had a fat crappie at the canoe and swung him in.
After about 10 crappies the action died. I upped anchor, moved a long cast over to the side and anchored once more. Before I could raise my rod Nate fired out a cast and caught another crappie. Wow, he was getting as many hits as I and loving it.
When we had 20 crappies between 10 and 12 inches in the bucket it was time to quit. More than enough for dinner and neither of us cared to clean more than that.
Rhode Island is certainly full of surprises.