So long, soya? Plant-based category report 2020 | Category Report – The Grocer
All these vegans better pipe down seeing as soy is one of the biggest things the planet is being destroyed for.'
This tweet, sent in response to the BBC's Extinction: The Facts programme, probably comes pretty close to a plant-based marketer's nightmare. It puts the finger right on one of the category's biggest sore spots: its heavy reliance on soy at a time when the crop is making some very bad headlines indeed.
The global outcry over deforestation across the Cerrado savannah and wildfires in the Amazon rainforest have exacerbated soy's reputational problems and made it a byword for environmental destruction. Never mind that most soy from South America ends up not in plant-based products but in animal feed. The association alone is bad news for a category that's trying to appeal to sustainability-minded shoppers.
Already, there's a narrative building that soy products are quickly falling out of favour with consumers, prompting plant-based manufacturers to hurriedly replace the controversial bean with cleaner, less problematic ingredients such as oat and pea.
Real-life category performance suggests a more complex picture. Soy has indeed lost its number one spot in the milk alternatives category, claimed by oat milk after growing a staggering 92.9% to £101.6m over the past year [Kantar 52 w/e September 2020]. But soy is hardly doing badly. It's grown by 13.3% and managed to regain ground against nut-based alternatives, which have increased by just 2.3%.
"There's a narrative building that soy products are quickly falling out of favour"
The picture is similarly nuanced in meat alternatives. While pea-based products have undeniably gained traction, led by the likes of Beyond Meat and Birds Eye's Green Cuisine range, there is no shortage of soy-based products on UK shelves. Category heavy-hitters such as Linda McCartney's continue to be soy-based, while challenger brands such as Vivera and Moving Mountains all use soy. Supermarket own-label ranges also feature plenty of it.
So, is the plant-based market really moving away from soy? Which crops and ingredients could potentially replace it? And ultimately, what do consumers want?
The message from retailers is clear: shoppers still want plant-based products made with soy. "We still see significant demand for soya-containing products, in both existing and new ranges," says a spokeswoman for Sainsbury's. Granted, it's true that consumers want to try a wider range of plant-based ingredients, as evidenced by Sainsbury's success with products made with pea protein, wheat/seitan, fava bean and jackfruit. "However, we can also attribute the success and customer demand for these new products to be driven by what they deliver in taste and texture, rather than necessarily their status as 'soya-free'," says the spokeswoman.
It's a similar story at Marks & Spencer. "Our plant-based Plant Kitchen range continues to be a popular choice for customers and includes a wide range of soy and non-soy products, from sweet potato and cashew curry to our mac and cheese bites," says a spokeswoman. "Whilst we've not seen a particular increase in customer demand for soy alternatives, we continue to listen closely to customer feedback."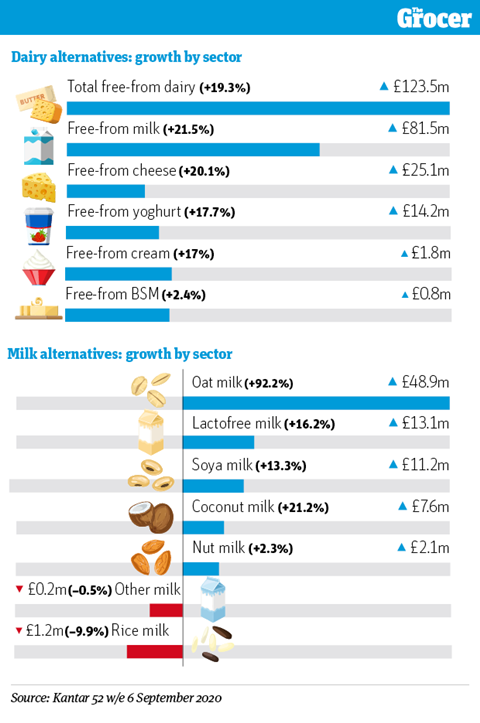 Dairy alternatives have benefited from continued strong shopper interest in plant-based. All sub-sectors have grown by close to 20%, except BSM, which is up just 2.4%.
Oat is the undisputed star of the milk alternatives world right now, after nearly doubling sales over the past year, overtaking both nut- and soy-based products and contributing nearly £50m in extra sales.
Soy and coconut held their own, but growth in nut-based milk alternatives has flattened, while rice milk is in decline.
While meat-free has seen heavy investment in own label, retailer ranges in dairy alternatives have to date been underdeveloped. But that's starting to change. Own-label milk alternatives have grown by 32.7% across all variants.
Brands continue to make up the lion's share of the category, contributing 73.9% of sales, but own-label's share is growing – and the latter's prices have dropped 7.4%.
Lidl and Morrisons are among the retailers rapidly growing their own-label ranges in this area.
Taste and texture
This is echoed by many brands. Kerry Foods, which uses soy in both its Naked Glory and Richmond meat-free ranges, says most consumers are driven by taste and texture, rather than a preference for individual ingredients.
"Sustainability is becoming an important agenda point, but where consumers are at this stage and where the category is in terms of its lifecycle, they are looking for products that really deliver from a taste and texture perspective," says marketing and category director Victoria Southern.
The figures seem to back her up: Naked Glory has generated £6.9m in retail sales value in less than 12 months [IRI 52 w/e 4 October 2020], while Richmond's plant-based sausages have hit £9.2m [IRI 52 w/e 6 September 2020].
The idea that soy has become a no-go ingredient for plant-based brands is "really overstated", agrees Simon Day, head of marketing at Winterbotham Darby, whose Squeaky Bean range includes soy and non-soy products. "I hear anecdotally that some people have some perceptions around soy, but I don't see it backed up by buying behaviour."
"People have perceptions around soy, but I don't see it backed up by buying behaviour"
Moving Mountains, which has soy-free hotdogs and mince alongside soy-containing products in its portfolio, also sees little evidence that shoppers are paying much attention at this stage. "Very few people have contacted us or approached us on social media to say 'wow, thank you so much for making it soy-free'," says founder Simeon Van der Molen. "They're more interested in the hotdog being gluten-free."
In dairy alternatives, too, soy remains "the anchor of the plant-based category", says David Jiscoot, marketing director for Alpro UK & Ireland. "Especially in plant-based alternatives to yoghurt, the vast majority – in the 70% range – is soy-based," he adds. "In drinks it's a bit more versatile, but in total soy is still more than 50% and still growing on a strong basis.
"A bit more versatile" may be understating the situation in milk alternatives somewhat. There's no question that oat, not soy, is the success story of the dairy alternatives sector right now. Led by Oatly, oat-based drinks have gone from virtually zero to more than £100m in the space of a few years. And the recent flurry of launches – including Arla's Jörd brand, oat drinks from Califia and Australia's Nutty Bruce as well as Oatly's extension into yoghurt alternatives – suggests the oat boom isn't about to calm down.
So far, soy has proved surprisingly resilient against this new threat. Having been overtaken by nut-based alternatives last year, it's bounced back in 2020 to clock up £95.7m in sales versus £92.9m for nut milk alternatives [Kantar]. Covid may have played a part in this, suggests Tesni Steele Jones, consumer insight director at Kantar. "People have potentially reverted to things that are bit more familiar and stable during lockdown," she says.
Next-gen brands
However, there's no getting away from the fact that soy is not as dominant as it once was. The most innovative names in plant-based are using new ingredients, and attracting swathes of new customers in the process.
"On a global basis, we are definitely seeing a move away from soya and towards alternative proteins in meat alternatives," says Robert Lawson, co-founder of Food Strategy Associates. "What we're seeing in the market is the fastest-growing brands right now – brands such as Beyond Meat – are often yellow pea-based."
The market is in the early stages of this transition, says Lawson. "In the UK, that switch isn't yet taking place, but I expect lots of soy-based brands will be looking to switch to yellow pea in the future."
"I expect lots of soy-based brands will be looking to switch to yellow pea"
When they do, sustainability will be one of the main reasons, he believes. "Consumers have three motivators to eat plant-based foods: animal welfare, health and environment. The key concern around soy is an environmental one, linked to deforestation. In practice, the vast majority of land cleared for soy is used for animal feed.
"But it doesn't change the tarnish on soy as an environmental ingredient, and you also have the tarnish associated with genetic modification. So, there is a desire to move away from soy to meet those concerns."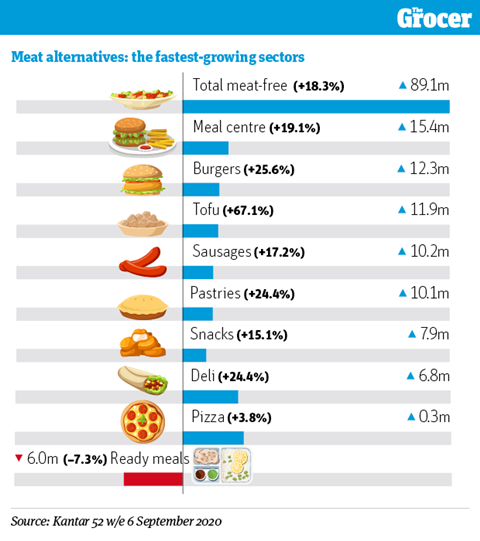 The UK meat alternatives sector continues to be in fine fettle, with sales up 18.3% to £577.4m over the past year.
But not every part of the category is flying. Plant-based ready meals have slumped by 7.4% in value terms, with volumes down nearly 15%. That's part of a wider decline in the ready meals market in the wake of Covid, which has seen more shoppers switch to scratch cooking.
In turn, plant-based ingredients have picked up pace, growing by nearly 30% year on year.
Retailers have invested heavily on their own-label ranges this year, but category growth continues to be driven by branded products. Own label could be pulling ahead on the NPD front, though: in the latest 12 weeks, own-label NPD contributed 29% of sales vs just 7% for brands. Plant Pioneers by Sainsbury's and Plant Chef by Tesco proved especially successful.
Penetration is an area to keep an eye on: 2.1 million fewer shoppers entered the category in the last year, with growth driven by existing shoppers buying more frequently and paying more. Average pack prices are up 7.8%.
A nuanced argument
Morten Toft Bech, founder of Meatless Farm, agrees. "The connotations around soy – fair or unfair – are a little bit difficult sometimes from a consumer perspective," he says. As a result, Meatless Farm recently decided to remove soy from its burgers and sausages.
"For us, it was more a marketing decision," says Toft Bech. "There are all these perceptions, and GMO is also linked to the name of soy. Obviously, the soy we're using in our products is non-GMO because we can't produce GMO soy in Europe anyway. But consumers often don't know these things."
This is a point that comes up again and again: what makes the debate around soy so challenging is the lack of nuance. Most soy produced for human consumption does not come from South America and areas associated with deforestation.
It's why Greenpeace, which is running a high-profile campaign on soy-linked deforestation, says there's no reason to avoid plant-based foods made with soy. "Our health, the stability of the climate and the future of the world's forests depend on us lowering production and consumption of meat and dairy, not on us avoiding plant-based foods containing soya," says Chiara Vitali, forests campaigner at Greenpeace UK.
But getting that nuance across to consumers is tricky. Some brands feel removing soy is the best option, even if they don't actually believe is problematic. "I don't want to hang soy out to dry because that would be unfair," says Toft Bech. "But the public narrative is often a lot less sophisticated."
Meatless Farm is not alone. "Food companies really feel the pressure to move away from soy and offer something different," says Verena Wiederkehr, international head of food industry & retail at ProVeg, a European organisation that promotes plant-based diets. There's a wide gap between consumer perceptions around soy and the reality, she adds, "but the food industry is at a bit of a loss as to how to address it".
Consumer education
For Alpro, the answer is consumer education. Brands mustn't run away from perception problems around soy; they must tackle them head-on, believes Jiscoot.
"There is a certain perception and it's a painful one," he says. "But instead of complaining about this, at Alpro we need to lead the way here and be transparent about soy. The vast majority of our soy comes from Europe and the rest comes from Canada by boat, and that's something we want to put across to consumers. We want consumers to know that you can't compare this soy to the soy from the Amazon rainforest.
"You need to give consumers transparency, so they can make the right choices," Jiscoot adds. "I'd rather do that based on science and on facts than on marketing. I'm not seeing a lot of my friends in this category do this, and that's a pity. The way we counteract this is with facts and with science."
Meat alternatives brand Vivera agrees. "It's extremely important that we use the ingredients that are best for the world and not those that are best for consumer perception," says CMO Maarten Vriesendorp. "That's why we're focused on soy. Looking at it strictly from an expert view, soy has the highest yield, the valorisation is very good and the nutritional values are very good. If you want to do good for the world, then soy is one of the best ingredients to use."
"If you want to do good for the world, then soy is one of the best ingredients to use"
Vivera will soon refresh its packaging and use the opportunity to provide more information on where its ingredients come from. "In future, we will be communicating more about what we're doing," says Vriesendorp. "It's a very complex topic and if you don't understand it properly it's easily misjudged."
Sustainability isn't the only reason why brands are exploring ingredients beyond soy, though. Simple market dynamics also play a role. The plant-based category is becoming increasingly crowded, so new and innovative ingredients are an opportunity for brands to differentiate themselves and provide new eating experiences. "Often, plant protein ingredients such as fava bean protein are used in plant-based meat and dairy alternatives to deliver desirable sensory qualities," says Emma Schofield, global food science senior analyst at Mintel.
That's an important consideration, stresses Schofield. "The sensory qualities of plant-based meat and dairy alternatives often fail to impress consumers, with only 19% of UK consumers agreeing they prefer the taste of plant-based milk to dairy milk, for example."
For brands looking to explore their options, there's a growing range of ingredients to choose from. The meat-free sector, in particular, is seeing huge levels of experimentation with alternative proteins. Chief among them is pea protein. It's the lead ingredient in Beyond Meat, Meatless Farm and Birds Eye's Green Cuisine, and is also gaining traction in other plant-based categories. Bol's new range of meal replacement shakes, for example, uses pea protein.
Alternative proteins
For Birds Eye, pea protein was always going to be a more obvious fit than soy, given the brand's heritage in peas. But peas also provide important nutritional advantages, says Anne-Marie Gayer, senior brand manager at Birds Eye, which has just added three 'chicken-free chicken' SKUs to Green Cuisine.
"While both pea and soy protein are rich in protein and naturally low in saturated fats, pea protein presents a good meat-free solution for consumers due to its high iron properties, low-allergenic credentials and is a source of fibre too." Plus, pea protein is highly versatile, adds Gayer. "This versatility lends itself to being able to create a range of different meat substitutes that imitate the texture and provide similar levels of protein as in beef, pork or chicken."
"The sensory qualities of plant-based meat and dairy alternatives often fail to impress"
Other ingredients that are picking up momentum include fava beans, sunflower seeds and chickpeas, as well as ancient grains such as quinoa and amaranth. Caroline Bushnell, director of corporate engagement at the Good Food Institute, also highlights lupin and duckweed, an aquatic plant also known as 'water lentils', as ingredients worth having on the radar. Interest in fermentation and fermented proteins, such as mycoprotein, also continues to rise, she says.
Broadening the range of ingredients used in plant-based foods makes sense from an environmental as well as an NPD point of view. High-protein leguminous crops such as chickpeas and yellow peas are nutritious and regenerative, says Mark Driscoll, a sustainability consultant and founder of Tasting the Future. "They fix nitrogen and reduce dependency on fossil-based fertilisers, so they rebuild soil health," he says. What's more, they're resilient and many could be grown locally – an important consideration as food producers look to reduce their reliance on imports and improve resilience to climate shocks.
The circular economy
As the circular economy moves up corporate agendas, manufacturers are also exploring opportunities to upcycle byproducts into plant protein. An EU-backed project called SmartProtein, which aims to develop the next generation of plant-based foods, has more than 30 partners including AB InBev and Barilla. Together, they are looking to convert byproducts from beer and pasta production into protein. "This will be a major next step in plant-based ingredients," says Wiederkehr.
Still, making the switch is easier said than done. There are good reasons why soy has been a popular ingredient in plant-based for such a long time. Manufacturers have amassed decades of experience making soy-based products, and current NPD and production processes are heavily geared towards soy. This is especially true in the meat alternatives sector.
"Soy is an ingredient the industry has been working with longer and has a lot of expertise in"
"High-moisture extrusion is the stalwart production process for plant-based meats that are going to have some kind of muscle fibre texture," says Bushnell at GFI. "Soy is widely considered the best protein source for high-moisture extrusion. It's an ingredient the industry has been working with longer and has developed a lot of expertise in."
What's more, soy works well in combination with other ingredients, particularly wheat. Many brands say it delivers qualities they still struggle to replicate elsewhere. "What we found with the soya protein is it's delivered us the flexibility to pull it, to chop it, to tear it, to produce different shapes and textures and fibres, which allowed us to work with it in a way that we weren't able to do with any of the newer, slightly more simple proteins," says Cath D'Arcy, co-founder and CEO of The Vegilantes brand.
Worldwide Food Associates, which distributes the Loma Linda range of tuna alternatives, highlights soy's ability to stand up to high cooking temperatures without breaking down. "This means we can create a finished product that is visually appealing whilst still holding a strong flavour profile," says MD Eric Woods. "It is a good base for our range of products and allows us to develop new exciting flavours."
Meatless Farm has kept soy in its meat-free mince for this reason. "For us, the pea TVP [textured vegetable protein] we were using didn't give us quite the same texture, so we decided to keep soy in there," says Toft Bech.
Supply and demand
Security of supply is another concern. As a globally traded commodity, soy is easy to get hold of through well-developed supply chains – and it's cheap. While there are many exciting new ingredients coming to market, not all are available in reliable, commercial quantities. Even pea protein continues to have its challenges.
Major ingredient suppliers such as Roquette are investing heavily to address this, including in a new pea protein factory in Manitoba, Canada, which is set to be the largest of its kind in the world. Still, brands that are reliant on pea protein are taking a close look at their sourcing – and in some cases are taking matters into their own hands. Meatless Farm will open its own pea protein facility in Calgary, Canada in early 2021. This will allow the brand to trace its ingredients right back to the grower and also give it greater control over its raw materials and the quality of TVP it uses, says Toft Bech.
"Brands that are reliant on pea protein are taking a close look at their sourcing"
"What we've seen with some competitors is if you scale too fast, you're going to have a different product from one region to the next simply because you are not sourcing the same TVP," he says. "All those conclusions have brought us to the point where we've wanted to invest in securing our own supply."
Security of supply is also becoming a pressing concern in dairy alternatives. "The sourcing piece is incredibly important," says Ishen Paran, UK general manager for Oatly. "We've constantly been in a position over the last three years where our demand is greater than our supply, and that continues today. It's clear we need more production facilities. There are enough oats, but we're growing globally at a phenomenal rate."
Oatly products sold in the UK are produced in the Netherlands, with oats mostly sourced from the Nordics, but "we're always looking at more locally sourced products and more local production", adds Paran.
Oat appetite
Given Oatly's growth plans, the need to shore up supply will only become more important. The brand recently expanded into yoghurt alternatives with its Oatgurt range and Paran says the response shows there's clear shopper appetite for more oat products.
"We're only in one retailer at the moment, but we're rolling out and we're already seeing the impact that we're making. Oat [yoghurt] is going to be on the same trajectory as when we launched in milk, probably quicker. Soon we'll be the number two crop and then hoping to get to that number one spot."
The "subtle, neutral" taste of oats is the big driver for consumers switching to oat products, says Paran, plus they are "a very sustainable crop". What's more, oats are also a simple, familiar ingredient, adds Wiederkehr at ProVeg. At a time when consumers are becoming more interested in 'clean' labels, that's a real advantage. "In product development, there's this rule that it should be 80% familiar and 20% new, then the acceptance rate will be highest," says Wiederkehr. "Overall, I predict oat will continue to rise and be used more and more."
"Nut does have an innovation edge that could ultimately lead it to overtake soy again"
While oats have hogged the limelight of late, there also continues to be a strong case for nut-based dairy alternatives. Growth has slowed this year, leading to nut-based products being overtaken by soy, but the level of NPD in the category means nut products remain well-positioned for the future, says Steele Jones at Kantar. "Nut does have an innovation edge that could ultimately lead it to overtake soy again."
Crucially, nut-based products continue to score well with consumers on taste and health. Harris Interactive research for The Grocer shows almond drinks are seen as healthiest by shoppers. "Almonds deliver powerful nutrition," says Peter Sullivan, EU marketing manager at Californian agricultural co-operative Blue Diamond. "In comparison to oat, the mouthfeel is much lighter and less grainy, subtle in flavour that will complement your breakfast, coffee, or smoothies without overpowering them. "
Almonds and the environment
Almonds do, of course, have sustainability challenges of their own. They're a crop that uses a lot of water, raising concerns about their environmental impact, especially in drought-stricken parts of California. Blue Diamond says it's taking these concerns very seriously. "California produces over 80% of the world's almonds and over half of California's almond growers are Blue Diamond members, so we can make a big impact," says Sullivan.
Other almond drink brands say they're responding, too – by sourcing from areas other than California. Challenger brand Nutty Bruce says it sources its almonds from growers in Sicily, while Rude Health also gets its almonds from the Mediterranean. "Not only do we think they taste better, they also grow in areas where rain is plentiful," says founder Camilla Barnard.
Alpro also sources from the Mediterranean and is running several pilots in partnership with the WWF to assess water use, soil health and biodiversity to "future-proof this ingredient even more", says Jiscoot.
"This focus on future-proofing is going to become more important as the category grows"
This focus on future-proofing is going to become more important as the plant-based category grows and consumers become savvier about sustainability, believes Driscoll at Tasting the Future. And it's not just brands that use soy or almonds that will need to pay attention to that trend.
"It's very easy for developers and innovators to think just because it's a plant they've ticked the sustainability box," he says. "Absolutely not. Every plant-based ingredient will have a sustainability impact. You have to undertake a full, detailed, lifecycle impact assessment depending on where the ingredients are sourced because no two places are going to be the same."
The current firestorm over soy and deforestation may calm down in time, but consumer interest in the environment is here to stay. Plant-based brands will face increasingly tough questions about their sourcing and sustainability standards, no matter what ingredients they use.
Innovations in plant-based 2020