5 Advantages of an Ethanol Fireplace, the Cozy, Low-Maintenance Amenity You Need This Winter – Alton Telegraph
Photo: Marina_Skoropadskaya/Getty Images
Curling up by the fire during winter is a dream that anyone can achieve—even those of us who live in a home that doesn't have a traditional fireplace. If your place was built without a brick hearth, fear not. You can still create that ideal winter scene in your home without breaking down a wall (or breaking the bank). The solution? An ethanol fireplace.
Also called a bio fireplace, an ethanol fireplace can provide warmth and "wow" factor to a space, minus the hassles of burning wood and smoke.
"An ethanol fireplace is a much cleaner alternative to other gas or wood-burning fireplaces," says Nate Bruen, franchisee and owner of Handyman Connection of Eden Prairie in Minnesota.
"Small amounts of water and carbon dioxide are the only byproducts of burning ethanol," Bruen explains. Ethanol is a liquid biofuel produced by fermenting various plants such as corn or soybeans, and is a renewable fuel.
Need more motivation? Here are some of the top reasons to get an ethanol fireplace.
1. No chimney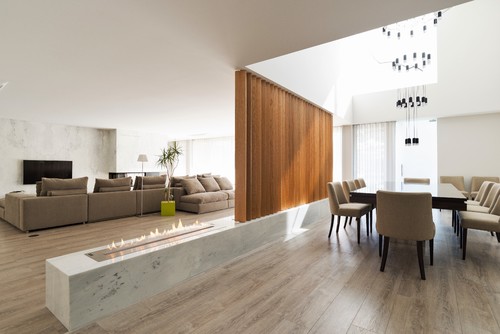 A traditional fireplace, and even a gas-powered fireplace, requires a chimney to release the smoke. An ethanol fireplace doesn't create smoke, so it doesn't need a chimney, vent, or flue to let out the smoke. That means you can put one just about anywhere in your home.
"They are very cost-effective and eco-friendly, as the fuel source is derived from renewables," says Justin Orr, customer service manager with The Bio Flame, a manufacturer of ethanol fireplaces.
2. No need to be installed in your home's structure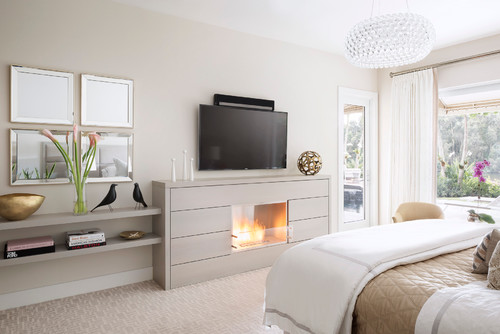 Photo by Krista + Home
Unlike traditional fireplaces that need to be built into your home, ethanol fireplaces are portable, so you can put one in the bedroom, dining room, or living room.
"Ethanol fireplaces are incredibly easy to install, compared to other types," says Bruen.
Orr says ethanol fireplaces do not require any venting or gas lines.
"This is great for condos, basements, or areas where it is difficult or impossible to run venting or gas. This makes it a simple installation even after the construction of a home," says Orr.
Since ethanol fireplaces are not permanent, they can be removed and reinstalled at any time or when you are relocating.
3. Ethanol fireplaces will really warm you up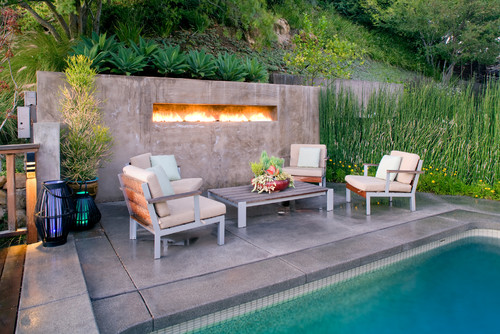 Photo by JWT Associates
Fireplaces are all about cultivating a warm, cozy environment, and ethanol fireplaces deliver. Ethanol fireplaces can heat a room of up to 600 square feet, which is more than what traditional fireplaces can do. Plus, they have playful, bright flames.
"They give off more heat than electric fireplaces and produce a real flame, which looks terrific when comparing to electric or gas," says Orr.
4. Ambiance without the smoke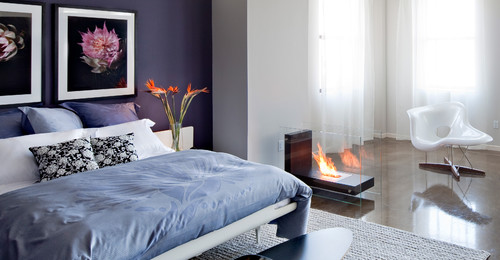 Photo by Houzz
There's a reason interior designers love to incorporate ethanol fireplaces into spaces: They provide a modern, sophisticated feel to the home with the full functionality of a fireplace. Ethanol fireplaces vary in size and designs, with finishes like shiny steel, matte black, or transparent glass. They can be a design element indoors or outdoors and can be placed on the floor or table, or mounted on a wall.
Unlike the artificial flames of electric fireplaces, ethanol fireplaces produce "a vibrant, real flame that exceeds any homeowner's expectations," says Orr.
5. Ethanol fireplaces are low-maintenance
A traditional wood fireplace requires the messy job of scraping out ash and coals and disposing of the waste. Ethanol fireplaces do not require regular maintenance, and they don't lose color or corrode after years of use.
"Aside from ethanol being a highly efficient fuel, it also burns much cleaner," says Bruen. "You won't have to worry about smoke, ashes, or soot causing a mess inside your home."
The post 5 Advantages of an Ethanol Fireplace, the Cozy, Low-Maintenance Amenity You Need This Winter appeared first on Real Estate News & Insights | realtor.com®.