Biodiesel usage not booming in the Florida Keys — yet – KeysNews.com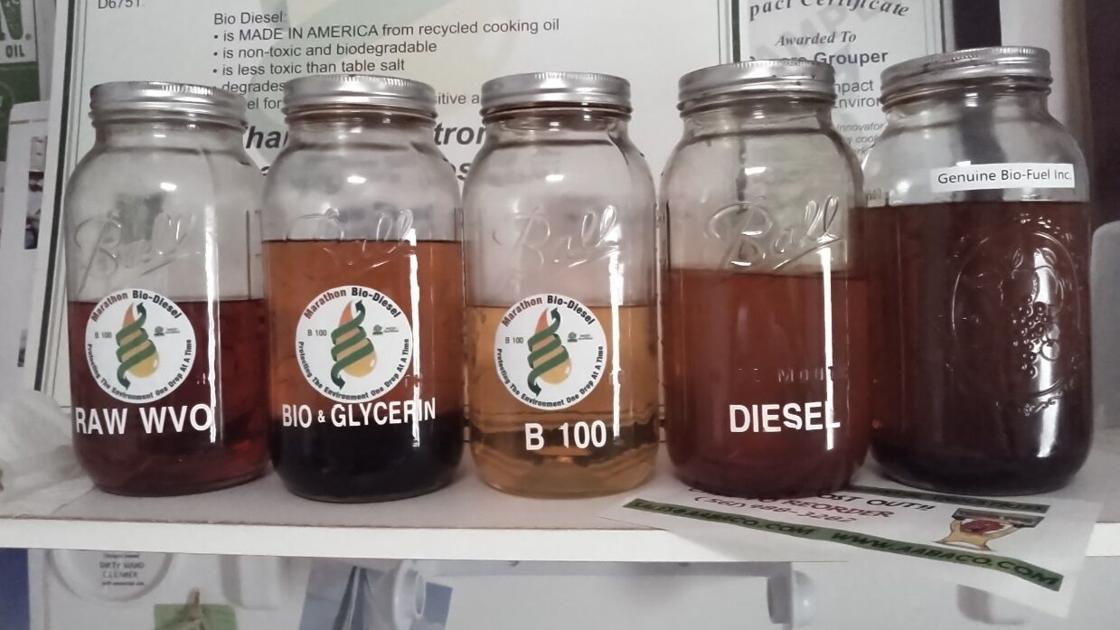 Despite its environmental benefits, biodiesel usage is not booming in the Florida Keys.
Jeff Lillie, a former commercial fisherman and machinist, founded Marathon Biodiesel about 15 years ago at Coco Plum Drive and U.S. 1 in Marathon because he cares about the Florida Keys National Marine Sanctuary. He thinks more diesel engine owners should be using biodiesel fuel for its myriad benefits including protecting the Keys' unique marine environment and enhancing engine longevity.
Marathon Biodiesel collects used vegetable oil from restaurants and processes it into biodiesel, a biodegradable, non-toxic, environmentally-friendly fuel for diesel engines. Biodiesel is a replacement or supplement for diesel fuel. It creates 80% less carbon dioxide and 100% less sulfur than diesel fuel, said Lillie.
A Keys resident for 41 years, Lillie's business has hit a crossroad due to Hurricane Irma in 2017 and COVID-19, but also because it is hard to convince people to change from what they know and to adopt new ideas and new ways of doing things, he has found, even if they are better for the environment.
Despite numerous stories through the years and even a phone conversation with Donald Trump Jr. about an appointment to a small business congressional committee promoting green ventures, Lillie's business is static after years of trying to educate boaters and have his biodiesel fuel available at more marinas in the Keys. "I see the devastation from two-cycle engines," Lillie said.
Tina Shannon at Burdines Waterfront Marina & Bar and Grill said the marina used to carry biodiesel fuel but it was not very popular. Some users said it negatively affected their engines, she said.
Disappointments more than successes have been the machinist's experience in the Keys. Lillie hoped the Key West tourist trolleys from Old Town Trolley Tours would switch to running on biodiesel. Then, he said, the drivers could point out to passengers as they rolled by various restaurants those donating used cooking oil to be transformed into biodiesel to fuel for the trolley. Thus far, though, that push for clean transit promotion has not moved forward.
What had the most traction at the start of the business was MPODs, or the clean diesel Mobile Processing On Demand system. "This is a community-based, turn-key, waste-to-fuel solution that is easy to operate and profitable," said Lillie. "We manufacture high-quality mobile processing operations that convert used vegetable oil into ASTM-certified biodiesel to be used in the community. Our staff has a combined 80 years of experience in chemistry, fuel composition, fleet operations, engine design and the legislative matters that drive the alternative fuel industry," Lillie said. "We have combined these strengths to develop a solid program that involves training, education and best practices to insure the success of customers."
In the beginning, there was a whole circle of life at the Marathon enterprise. Interaction over worm-farming generated interest, for example. As well, a January 2012 Key West Citizen article listed 25 entities donating used oil to Marathon Biodiesel. Now, the entrepreneur hopes someone will buy into his Marathon facility and assist in the manufacture of MPODs. However, as a pandemic-related option, Lillie is producing glycerin hand pumice and cleaner. Glycerin is a major byproduct in the biodiesel manufacturing process. In general, for every 100 pounds of biodiesel produced, approximately 10 pounds of crude glycerol is created, according to https://farm-energy.extension.org/.