Riviera – News Content Hub – MOL tests alternative fuels on Japanese tugs – Riviera Maritime Media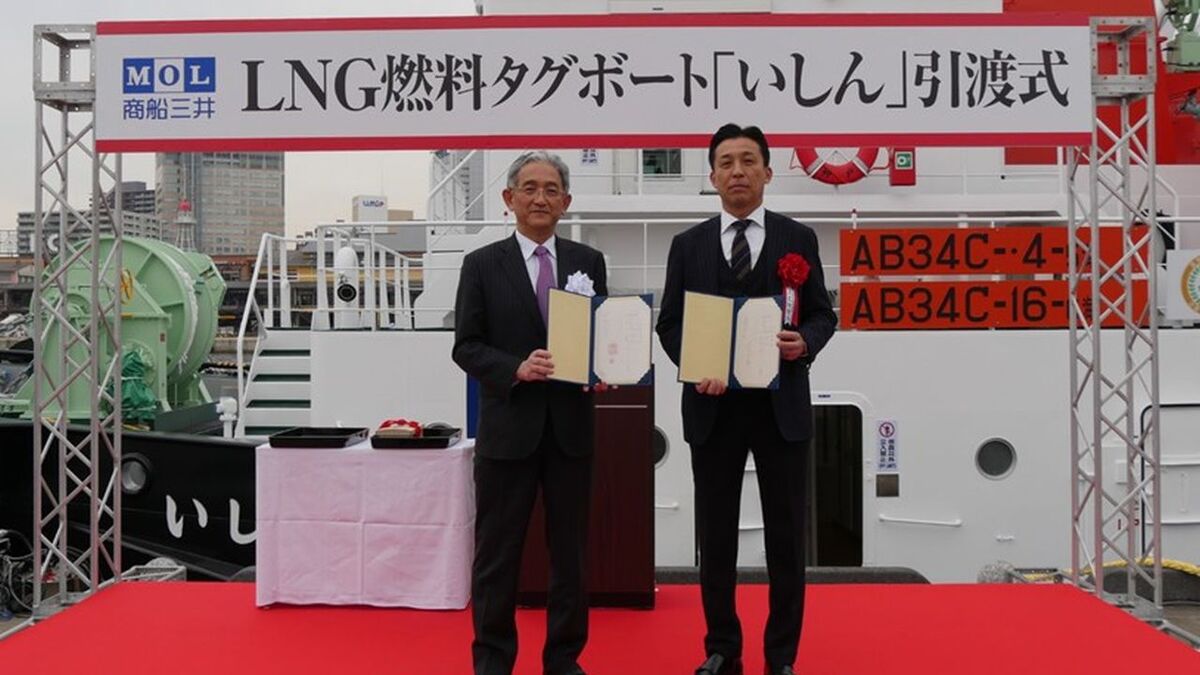 Handover ceremony at Kanagawa Shipbuilding for MOL LNG tug Ishin (source: MOL)
08 Feb 2021by Martyn Wingrove
Mitsui OSK Lines (MOL) is trialling two alternative fuels on tugs to reduce the environmental footprint of Japan's towage industry
The Japanese shipping group has conducted sea trials using biofuel on one of its tugboats and has almost a year's operational experience with an LNG-fuelled tug.
MOL worked with Euglena Co in 2020 to test renewable biodiesel on tugboat 13 Tamashio in the Port of Nagoya, Japan. These trials were conducted in co-operation with the Nagoya Port Authority.
MOL subsidiary Green Kaiji Kaisha operated the tug and Euglena Co supplied the biodiesel fuel from its demonstration plant producing bio kerosine and diesel fuels in Yokohama, Japan. This renewable biofuel is produced with used cooking oil and Euglena, a type of algae similar to brown seaweed and sea tangle.
Marine diesel engines can run on this biofuel with no modifications, producing no sulphur oxide emissions and significantly lower levels of greenhouse gases because of its sources.
MOL said it was working with Euglena Co "to reduce the maritime industry's environmental impact and realise a sustainable global society, while moving ahead with environment-friendly activities."
In another environmental drive, MOL has been operating LNG-fuelled tug Ishin in Osaka Bay and the Seto Inland Sea for almost a year. This 2019-built tug was completed by Kanagawa Shipbuilding Co and is operated by MOL subsidiary Nippon Tug-boat Co. Since March 2020, Ishin has been guiding large vessels into ports in the area with LNG fuel bunkered at Sakai Senboku Port.
Yanmar supplied two dual-fuel 6EY26DF main engines and the fuel supply system, including the LNG fuel tank, buffer tank and gas fuel device on Ishin. MOL and Osaka Gas Co will establish the first LNG fuel supply system for ships in Osaka Bay using this experience on Ishin.
---
Alternative fuels and tug technology will be discussed during Riviera's series of virtual conferences and webinars during 2021 – use this link to access more details and register for these events