Growing our way out of nutrient problems on our waterways – FIU News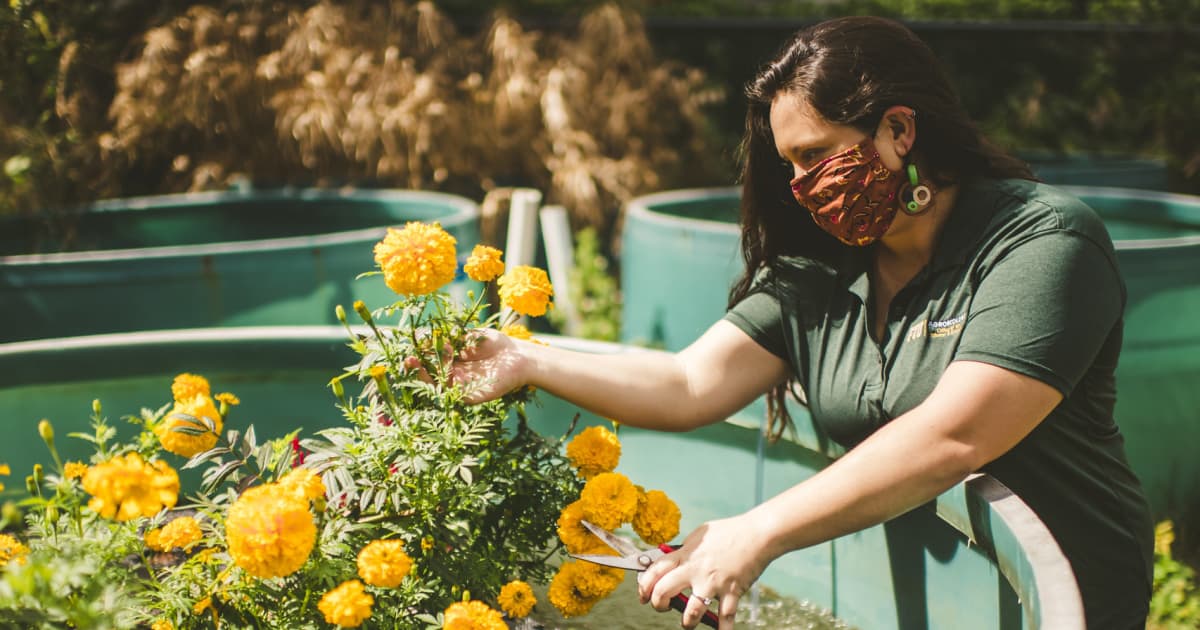 An FIU Institute of Environment Ph.D. student is investigating whether growing plants on floating mats in the middle of canals can help reduce the number of pollutants pouring into Biscayne Bay.
Previous studies conducted by Institute of Environment ecologist John Kominoski found that rivers and streams in the U.S. and around the world carry more nitrogen and phosphorous than is recommended.
In August 2020, so much polluted water entered Biscayne Bay that it triggered an explosive growth of algae that drained the bay of oxygen and led to a massive fish kill.
While all these nutrients might be bad for the environment, they're fuel for plants. And if plants can be grown on floating treatment wetlands on our waterways, they'll beautify normally trash-strewn canals and eat up nutrients and pollution before they get a chance to foul the bay.
Now FIU's Jazmin Locke-Rodriguez wants to know whether growing flowers or crops that thrive in South Florida right on our nutrient-rich canals could help send cleaner water to the bay. To find out, Locke-Rodriguez is working with Professor Krish Jayachandran, co-director of the FIU Agroecology program and an Institute of Environment researcher.
"I hope it can be applied to a field site where it's relevant," Locke-Rodriguez said. "We are having to deal with these nutrients that trickle down and impact us down here in South Florida. We've seen it in Florida Bay and now in Biscayne Bay."
Her work is just getting started.
Right next to FIU's Wertheim Conservatory, Locke-Rodriguez is filling freshwater tanks and loading them with enough nitrogen and phosphorous to mimic the conditions found in canals throughout South Florida.
Water from Lake Okeechobee — already nutrient rich — flows into the canals and keeps collecting more nutrients as it winds its way east to Biscayne Bay and the Atlantic Ocean. These nutrients come from farms in the fertile Everglades Agricultural Area; from fertilizer used to keep lawns green and flowers blooming; storm runoff and from yard waste that manages to fall in the water.
On early tests run on her tanks, Locke-Rodriguez has seen marigolds thrive in this new medium. Because their roots are not having to dig through soil in search of nutrients, they can grow longer and stretch out over a wider area sucking up as much nitrogen and phosphorous from the water as they can consume. Their flowers grow large and pop with a brilliant yellow-orange color that gives the flowers their name.
Comparing the water in the tanks where the marigolds were grown to the control tank without them is like comparing night and day. Control water samples looked sickeningly yellow. In the tank where marigolds had their fill, the water was almost crystalline.
Her hope is that by using commercially viable plants like marigolds or crops grown and sold in South Florida, this effort can become self-sustaining — that any money earned from the sale of the flowers or crops could be pumped right back into efforts to plant more flowers in canals or retention ponds to keep nutrients in check.
As part of the effort, Locke-Rodriguez is mapping the places in South Florida where it makes sense to place these mats, one day bringing beautifully brilliant color to places where usually dark water swirls by brown and green canal banks go largely unnoticed.
Before placing these mats on canals, Locke-Rodriguez and Jayachandran are also looking to find a balance between how many plants should occupy a mat and how many mats should be placed into a system. Too many can lead to a situation where oxygen in the canals and later the bay is depleted and can lead to fish kills.
"We're still in the experimental product phase," Locke-Rodriguez said. "We're still learning a lot and, hopefully, But the results so far are promising and I can't wait to investigate additional species."