Appalachian Power seeks bids for renewable energy projects – Roanoke Times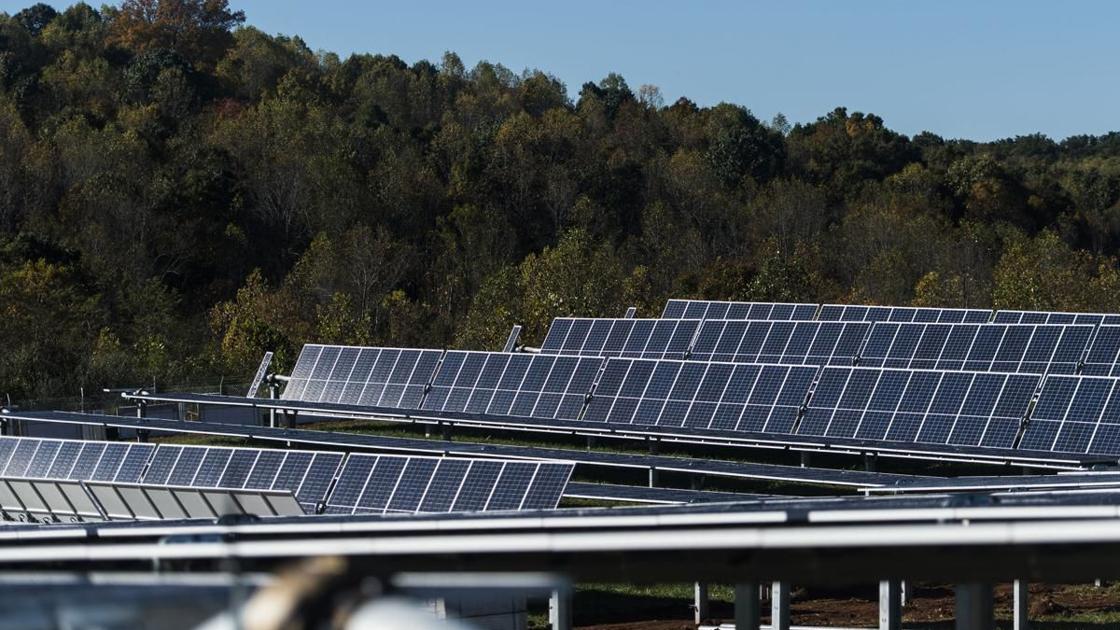 Appalachian Power Co. is renewing its search for renewable energy.
The utility announced Monday that it has issued a request for proposals, inviting developers of solar and wind projects to submit bids for consideration by March 31.
After long relying predominantly on coal and more recently natural gas, Appalachian is being pushed to pursue renewable energy by the Virginia Clean Economy Act, a sweeping law that requires it to produce all carbon-free electricity to its state customers by 2050.
Appalachian said its solicitation, in which it seeks to acquire resources that would generate up to 300 megawatts of electricity, is the first in a series planned this year to comply with the law.
"Certainly the industries are excited to see the RFPs out, and we look forward to working with Appalachian," said Rachel Smucker, Virginia policy and development manager for Chesapeake Solar & Storage Association, a trade group for solar developers.
Although Appalachian had been making efforts to diversify its energy portfolio before the Clean Economy Act was passed last year by the General Assembly, results have so far been slow.
In 2018, the utility invited bids for solar projects that would generate up to 200 megawatts of electricity, enough to power more than 30,000 homes. That led to one project that later fell through, company spokeswoman Teresa Hall said.
A second round of requests for proposals was issued in 2020 for the same amount of solar capacity. Appalachian reached an agreement to purchase a 5 megawatt facility. Because the deal has not been finalized, Hall said she could not provide details.
To date, Appalachian has yet to use any solar energy from a utility-scale source. That is expected to change this summer, when the Depot Solar Center goes online in Campbell County, delivering 15 megawatts of electricity from a 150-acre bank of solar panels.
As part of a deal struck in 2017, Appalachian will purchase the electricity from a developer who is building and will operate the facility.
In announcing the most recent invitation for bids, the utility expressed interest in purchasing one or more solar or wind farms that would generate at least 50 megawatts, preferably by December 2023.
Bidders may also make proposals that include a battery storage system for when the sun is not shining or the wind not blowing.
"This is Appalachian Power's largest request yet in a single year for renewable energy bids," president and chief operating officer Chris Beam said in an announcement.
"We look forward to reviewing the proposals and issuing more requests for bids later this year as we expand our portfolio and reliance on clean energy."
Appalachian, which has about 500,000 customers in Western Virginia, currently gets 80% of its electricity from coal and natural gas. About 11% comes from hydroelectric facilities, such as the one at Smith Mountain Lake, and wind farms in other states account for 7%.
In a plan submitted last November to the State Corporation Commission, Appalachian said it will acquire 210 megawatts of solar power and 200 megawatts of wind power over the next five years.
Long-term plans call for the utility to add 3,400 megawatts of solar, 2,200 megawatts of on-shore wind and 400 megawatts of energy storage to its current energy portfolio by mid-century.
#pu-email-form-business-email { clear: both; background-color: #fff; color: #222; background-position: bottom; background-repeat: no-repeat; padding: 15px 20px; margin-bottom: 40px; box-shadow: 0px 2px 0px 0px rgba(0,0,0,.05); border-top: 4px solid rgba(0,0,0,.8); border-bottom: 1px solid rgba(0,0,0,.2); display: none; } #pu-email-form-business-email, #pu-email-form-business-email p { font-family: -apple-system, BlinkMacSystemFont, "Segoe UI", Helvetica, Arial, sans-serif, "Apple Color Emoji", "Segoe UI Emoji", "Segoe UI Symbol"; } #pu-email-form-business-email h1 { font-size: 24px; margin: 15px 0 5px 0; font-family: "serif-ds", Times, "Times New Roman", serif; } #pu-email-form-business-email .lead { margin-bottom: 5px; } #pu-email-form-business-email .email-desc { font-size: 16px; line-height: 20px; margin-bottom: 5px; opacity: 0.7; } #pu-email-form-business-email form { padding: 10px 30px 5px 30px; } #pu-email-form-business-email .disclaimer { opacity: 0.5; margin-bottom: 0; line-height: 100%; } #pu-email-form-business-email .disclaimer a { color: #222; text-decoration: underline; } #pu-email-form-business-email .email-hammer { border-bottom: 3px solid #222; opacity: .5; display: inline-block; padding: 0 10px 5px 10px; margin-bottom: -5px; font-size: 16px; }